Well I have to admit, the view from where I sit has been rather grand lately. Even as I'm sitting here writing this on the train from Venice to Rome, I'm struck by the romance of it all. I'm not talking strictly romance as in between Kevin and I (although there has been plenty of that), I'm talking more generally about the romance of being in Europe. The detailed beauty of the architecture, the chatter of romance languages all around, even the imperfections of the places we've been are beautiful. Plants overgrowing their pots back home would make a place look "sketchy" or "rundown" but here it just adds to the romantic affect.
So far we have spent three days in Paris and one day in Venice. Our trip is officially at its half way point. I'm filled with mixed emotions of wanting it to slow down, because hello romance, and speed up because I cant wait to hold my babies. My good friend Bridget wrote beautifully about the many paradoxes of motherhood here, which I have been feeling so starkly on this trip.
Anyway, we started in Paris: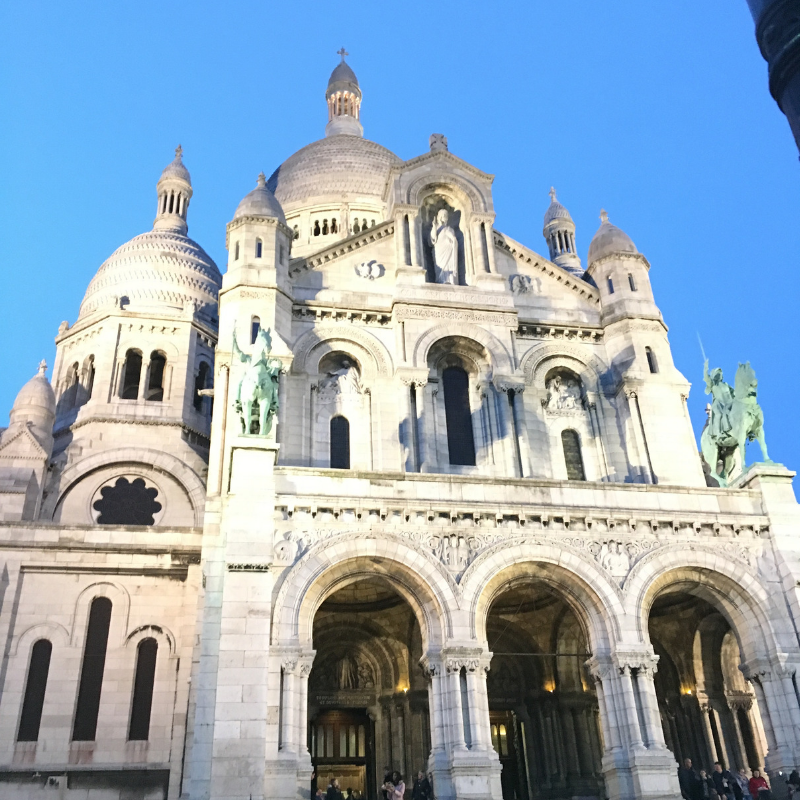 There was so much we wanted to do in Paris but with only three days time there was just no way it was going to happen. Being the city we started in also doomed our plans a little bit because everything took longer than we expected. I honestly think we lost at least two hours every morning to logistics. Finding the right metro to take when the one we were planning on using was closed that day. Looking for the luggage storage place in the train station with the most confusing signage ever. Every morning in Paris was a logistical nightmare but once we got going the days were great!
The places that stand out to me most from our time in Paris are the Cathedrals. We planned on seeing three but only actually made it to two, Notre Dame and Sacre Coeur. While both were extravagant and beautiful Sacre Coeur was our favorite. Walking through Notre Dame the focus felt like it was on the building itself and the history of it being built. But walking through Sacre Coeur you couldn't help but be struck by one thing, Jesus. You walk into this church and the first thing you notice is a giant painting, in the largest dome of the building, of Jesus with his arms open in welcome. The other paintings throughout were heavily new testament and Jesus focused and we LOVED IT! I left that church praying, "Lord if these churches are a metaphor for the two paths a Chrisitan's life can take let mine the that of the Sacre Coeur, reflecting you and your love to the world rather than calling all the attention to myself."
We ended our time in Paris by checking an item off my bucket list. We laid out Kevin's jacket on the lawn of the Eiffel tower, popped open a half bottle of wine (these really need to become a thing in the states) and snacked on a baguette and some stinky cheese. The Lord was so faithful to even have the Sun come out and it was truly perfection!
We traveled to Venice by overnight train, and spent one magical day in the canal city: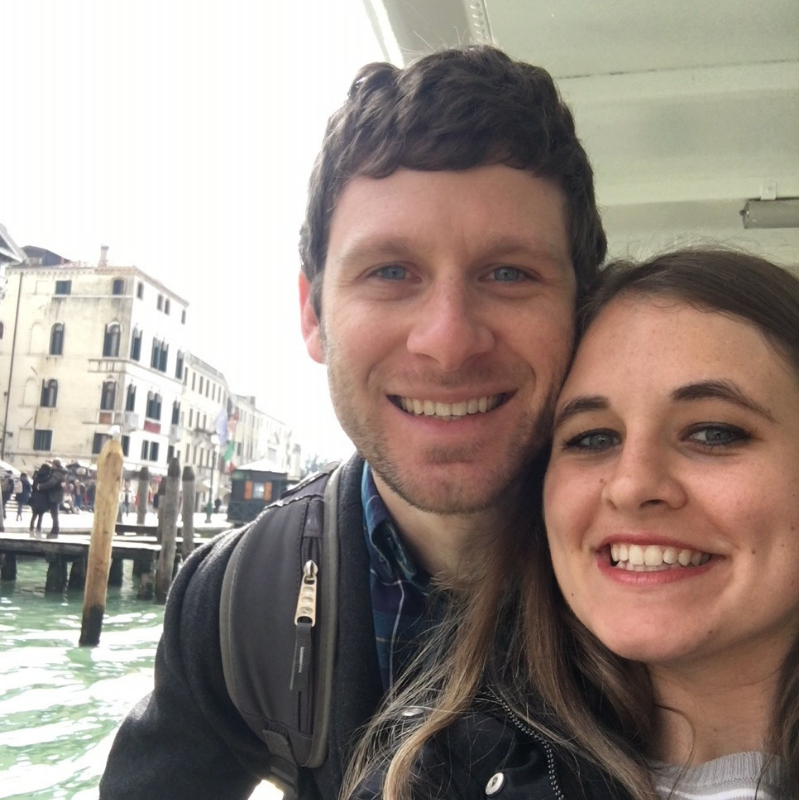 Since we only had one day in Venice we booked a tour guide for the morning to help us get acquainted with the city and take us out to the nearby island of Murano to tour the Glass Blowing factories there. Our guide's name was Giovanni, she was supremely helpful and clearly had connections in Murano, as we got the royal treatment walking around with her, it was fantastic! She showed us around Murano, arranged a private taxi ride back to the island for us and then showed us around Rialto bridge before recommending a place for lunch and leaving us to explore on our own.
After a lunch of traditional Italian street food ( yummy fried stuff) we headed to our hotel to get checked in, and then to St. Marks Square. There we walked around the Basillica of St. Mark and enjoyed some hot beverages at a little café on the square with live classical music playing in the background. It was truly picturesque.
We had planned to go to Doge's palace but were both exhausted so opted instead to go back to the hotel to read for a while before heading back out for dinner and dessert later. All in all Venice was restful and everything I wanted it to be, which is so rare.
Now as I'm taking in the views on the train between Venice and Rome I am struck by how supremely good our God is. The timing of this trip was no mistake on his part. It has been exactly what we needed after a truly difficult season. It can be tempting sometimes to feeling guilty about enjoying the gifts God gives us, but I am reminded that He is a father and we are his children. As a mother there is nothing that brings me more joy than to see Ev or Clara's little face light up with excitement when I give them a gift or orchestrate a new experience for them. I have no doubt God feels the same way and am doing my best to just be thankful and praise Him as we enjoy this special time!