I am excited to be launching a new page on the blog where I will focus mainly on "The Small Things". My hope for this new category is to document the day to day application of what God is teaching me. Spoiler alert… its usually not very glamorous! I do hope it will be an encouragement to you and potentially a source of ideas of how to be intentional in appreciating the little things in life and take the opportunities that you have every day to step out in faith and watch God move in power!
The View From Where I Sit will be a series where I take time to reflect on and appreciate the little mundane parts of my day to day life. Lately I have felt my view has been rather grey and in the midst of my own personal struggles I've sensed the Lord calling me to praise Him and be thankful. Today these are the moments I praised him through and thanked Him for.
1. My Girl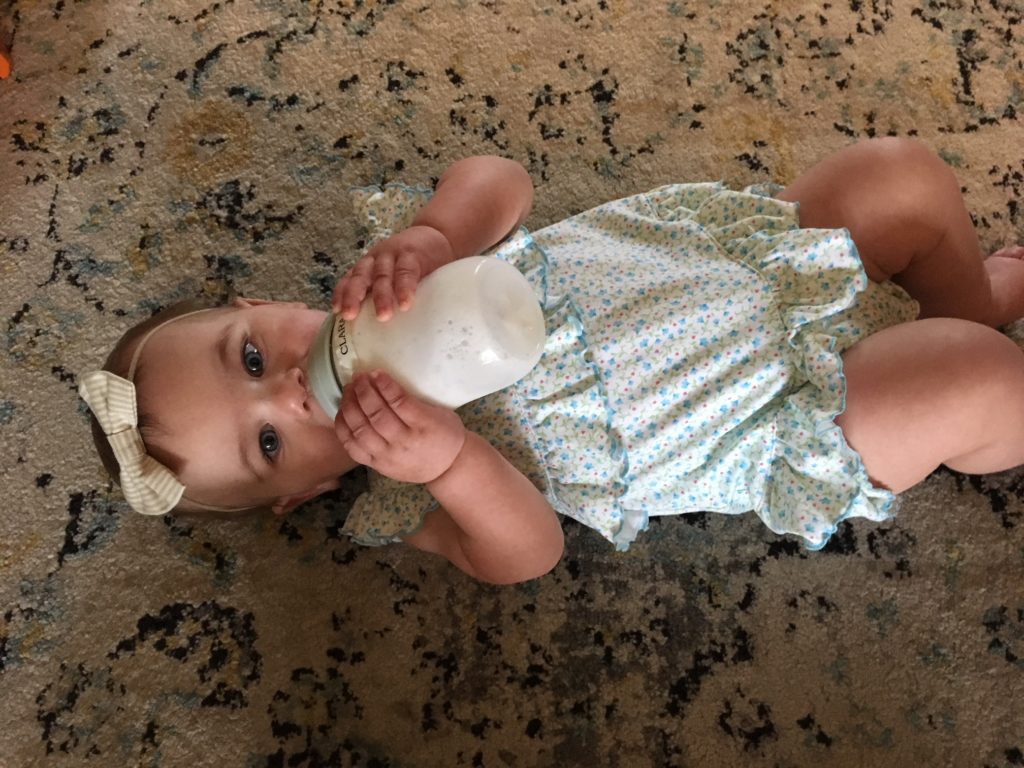 I love the sweet outfit Clara wore today! Had to send her Gigi a little shout out to thank her for it. There is something so uplifting about seeing my precious baby girl all dolled up. A simple joy for sure, but one I was very thankful for today!
2. Target Run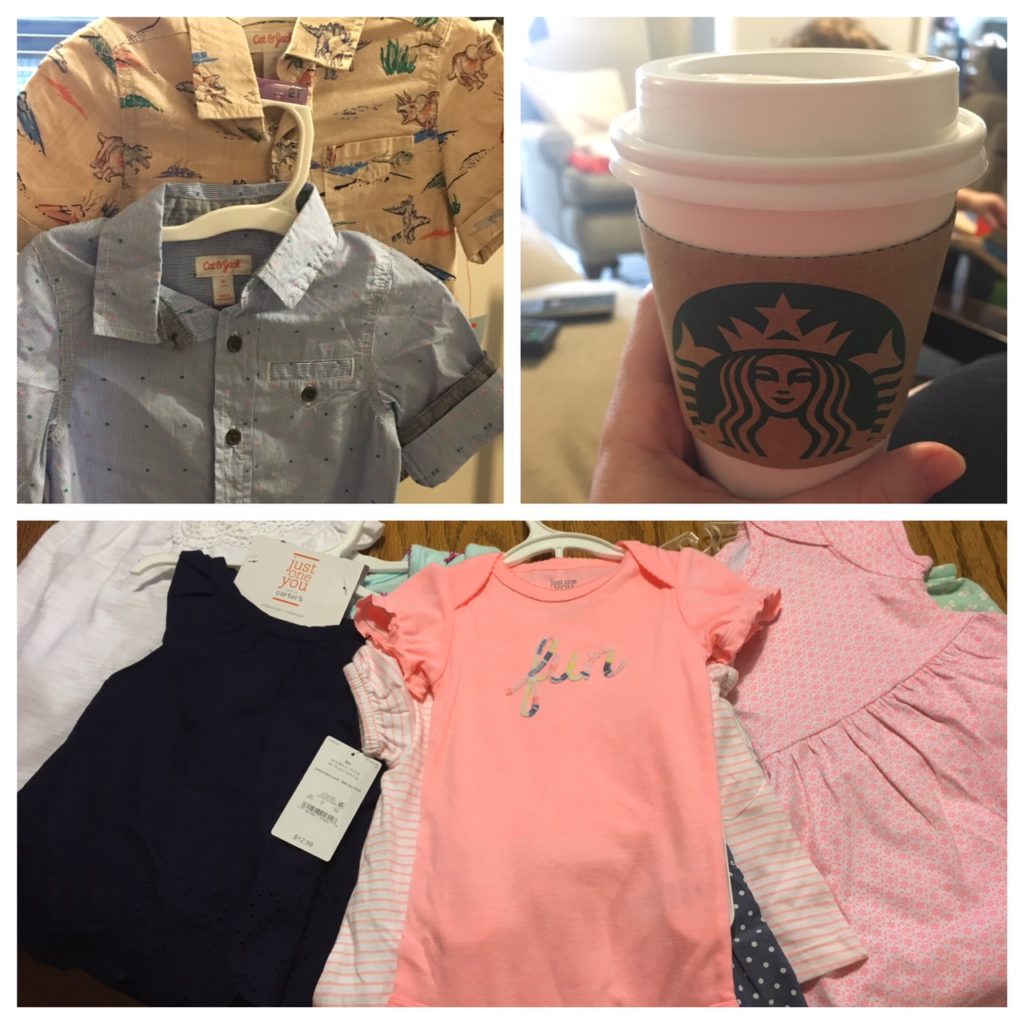 A missed workout (we were late and missed the location change message, oops!) turned into a spontaneous Target run! As a bonus, kids clothes were 20% off today, woohoo! Clara now has season appropriate clothes to wear, and Ev is all set for Easter! The best part was at the end, after realizing we lost sissy's paci somewhere and retracing our steps to no avail, Ev started chanting "sawa, sawa" which I soon realized means Starbucks. My response? "You're right buddy, Starbucks does seem appropriate right now!"
3. Nap time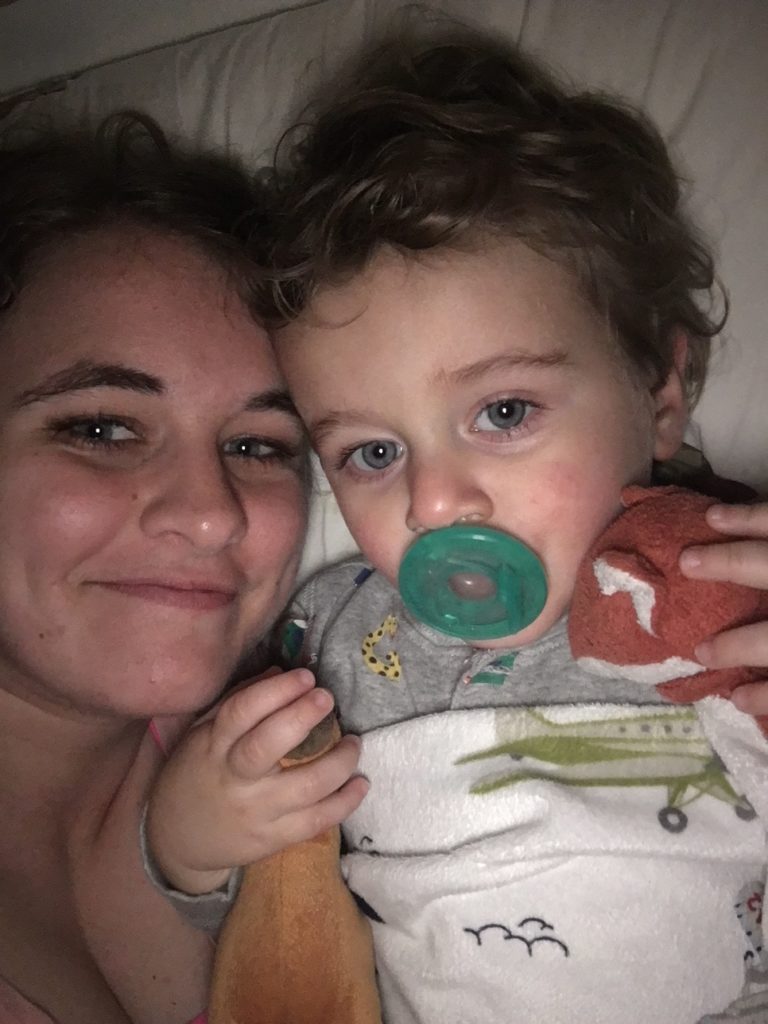 This time of day has begun to produce anxiety in me. Sweet Ev, who has always been a great sleeper, has started refusing to nap since moving to a big boy bed. While it has been a difficult transition, and we are all still adjusting, I have to say the reading in bed followed by a few minutes of snuggles is pretty great! That being said, prayers for sleep, specifically during nap time (bedtime hasn't really been an issue PTL!), would be greatly appreciated!
4. Play time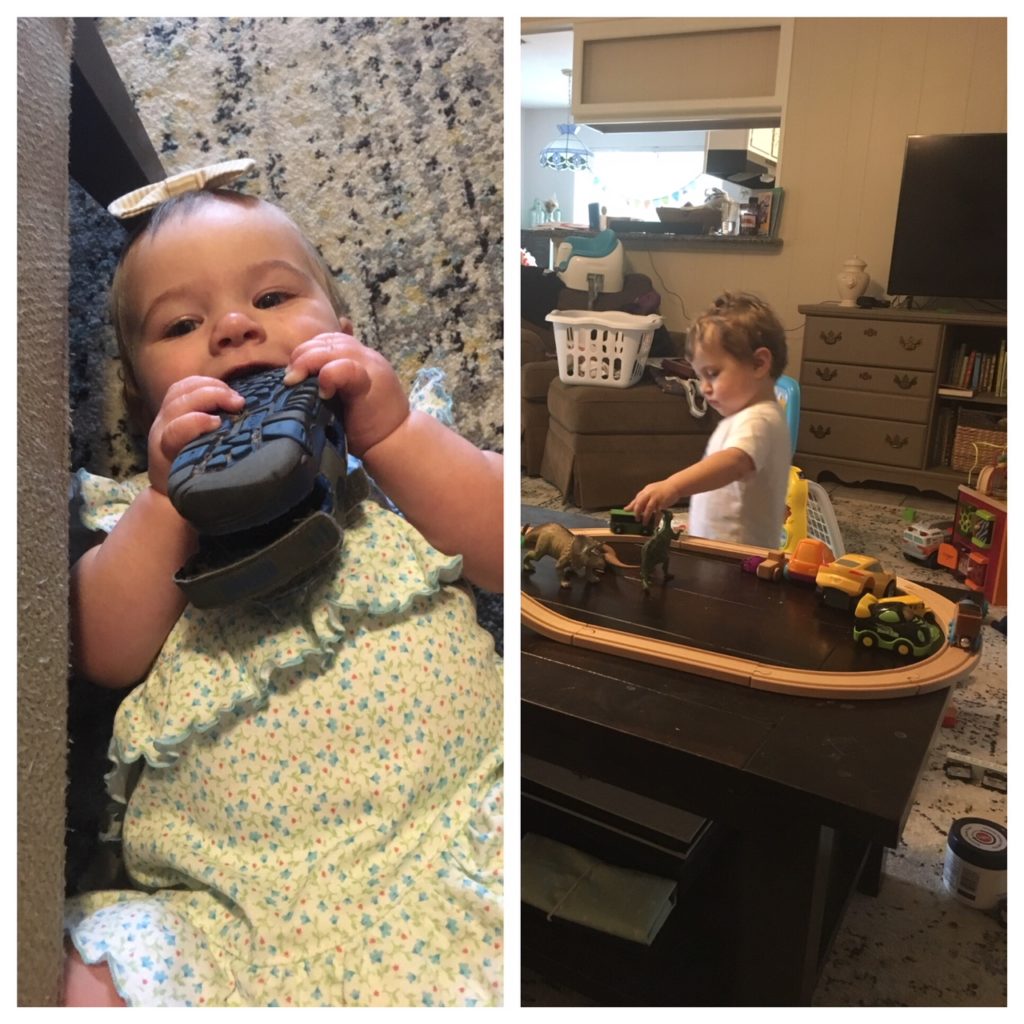 Sis is constantly into everything, especially things she shouldn't have. And Ev is loving all things transportation and animals. Today it was trains and dinosaurs! I love watching them play, it always reminds me how quickly they are changing. I often find myself praying that I won't wish these moments away, but will cherish them for the special times that they are.
5. Daddy is home!!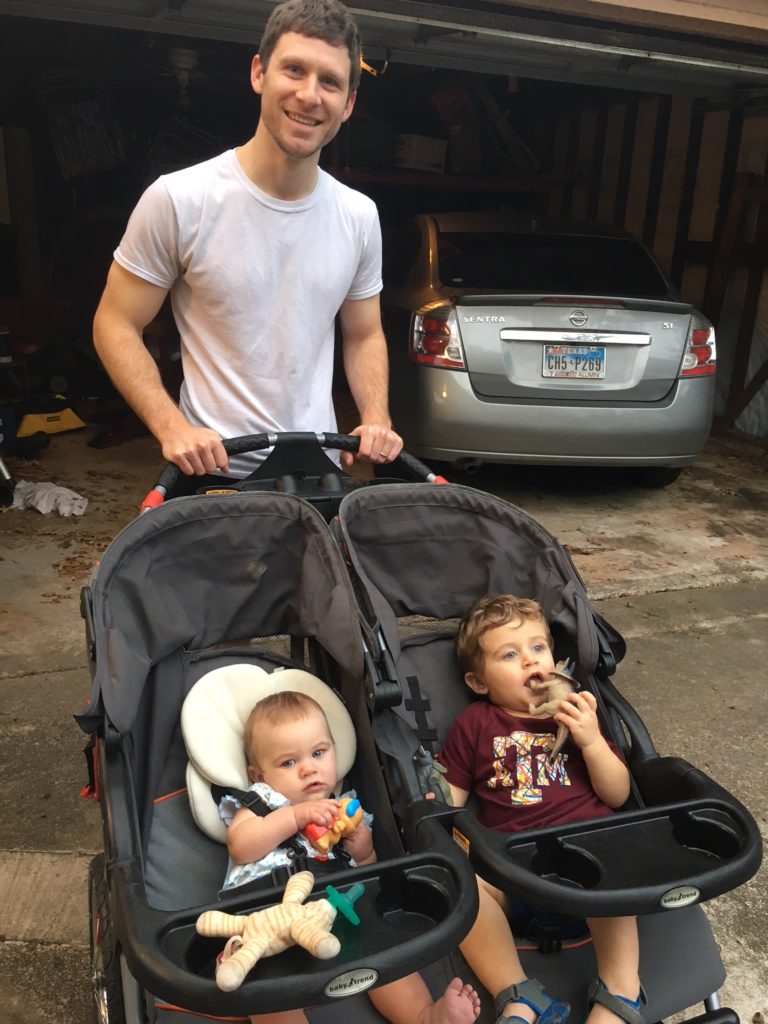 Dad is home and taking the kids for a jog! I am always thankful when Kevin comes home and offers to take the littles with him so I can have some quiet time or cook dinner without a kid clinging to my leg. Today I was especially grateful because leftovers were for dinner so I got to do something 100% for myself while they were gone.
6. Bedtime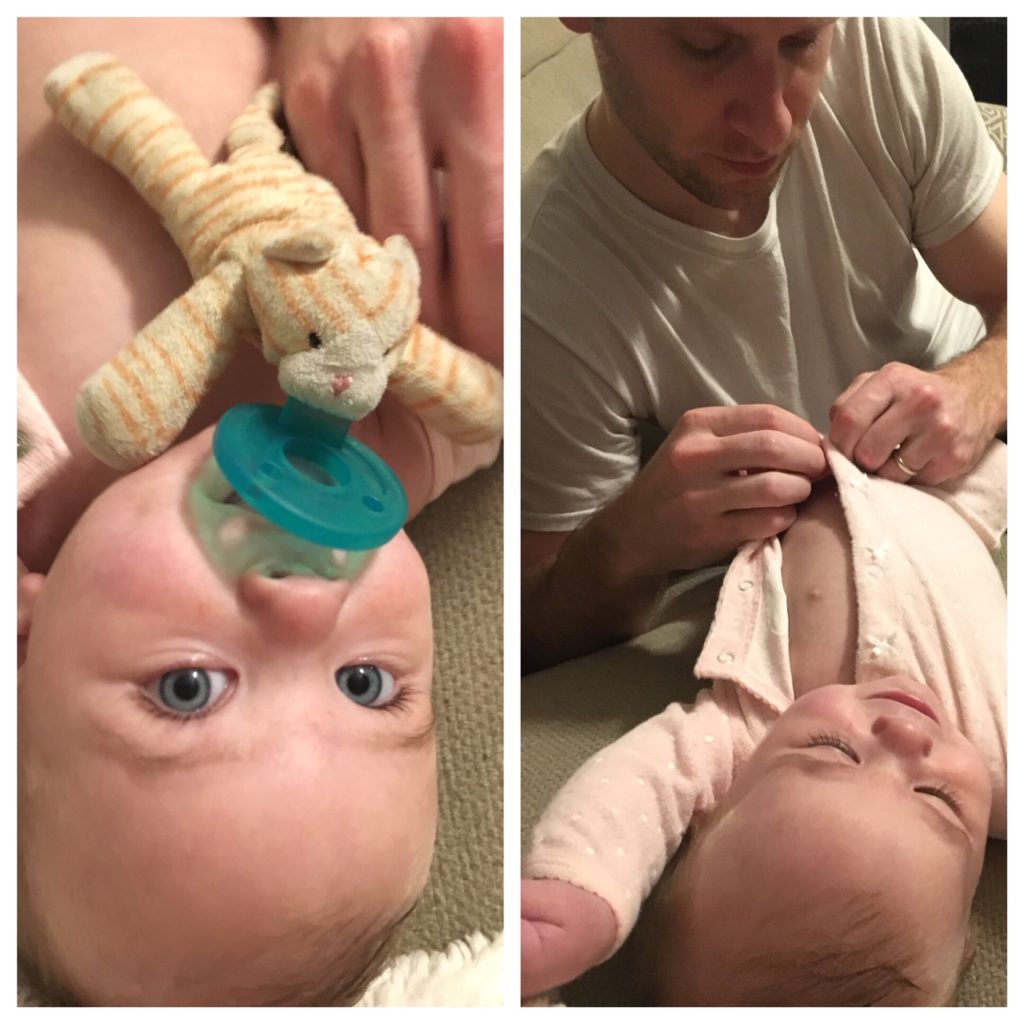 Tonight I was particularly tired, and ready for the kids to be in bed. I'm thankful for a husband who is a partner in every sense of the word. He takes on bath time and bedtime most nights with zero complaints!
I hope this is a blessing and an encouragement to you. Or if nothing else you enjoy getting to know our family a little bit! Let me know what you think and don't forget to subscribe so you can get the latest blogs delivered straight to your inbox!